Description
General information
Beans (peeled pinto beans) are a cultivar of the beans and legumes, kidney bean (Phaseolus Bulgaria) and it is very common in Nigeria. In Nigeria, it is basically called brown beans. In Spanish they are called frijoles pintos, literally "painted beans".
Pinto Beans is also the most popular bean in crop production in northern Mexico and the southwestern United States and is most commonly eaten whole (sometimes in soups) or mashed and re-fried. This beans is also a common filling in Mexican burritos, tostadas, or tacos and is served as a side or part of main dishes, along with New Mexican tortillas or sopaipillas.
In Nigeria, this beans is used to make beans porridge, beans cake (akara), moi moi, even beans flour.
Dried pinto beans are beans commonly used for reconstitution or canning in many dishes, especially refried beans. It's popular with chili con carne, but beans and legumes like kidney beans, black eyed peas, black beans, and many others can be used elsewhere.

The health benefits of these beans is that it's an excellent source of protein, phosphorus, and manganese, and is very high in fibre and folic acid. Another one of these beans health benefits are that it may help reduce blood sugar. Because it helps lower blood sugar and the protein container in the beans, it's a nutritious choice among so many.
The country of origin is Nigeria.
For Akara:
After blending the beans, chop more onions and pepper into the blended beans, and mix properly with a spatula. Add salt and a little water, then keep stirring till it gives off the usual beans odour, and it is uniformly mixed. Next up, heat up some vegetable oil in a frying pan, enough to try the akara.
Let it heat up for a bit, then with a tablespoon or a spoon bigger then that of a normal tablespoon, scoop up some mixed blended beans and place them in the heated oil pan.
Allow to fry, then flip the other side over and allow to fry again, then press on the frying akara, and allow to fry for five seconds.
Remove them one by one and place the beans came into a sieve, or a plate covered with people towels to allow the oil drain from the beans cake.
Serve beans cake with soaked garri, pap, oats, or bread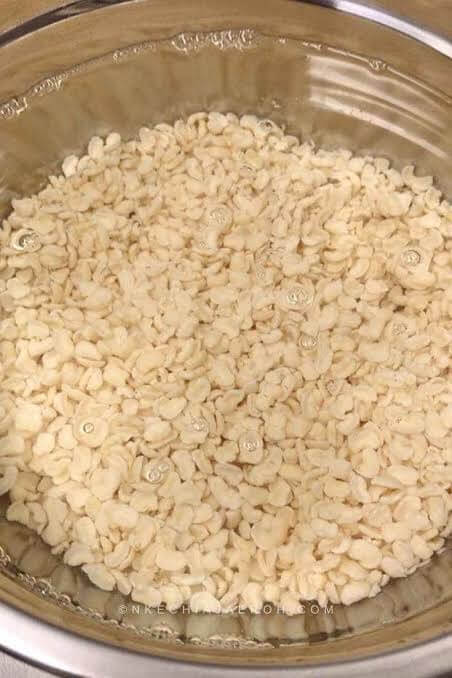 Package Type
Our peeled beans are packaged in a branded sealed pack., and then the packaged beans are carefully placed at the top of your box.
Recycling Information
After using anything disposable from the beans pack, throw the disposable into the appropriate bin.
These beans are often soaked, which lessens cooking time significantly. If not soaked, beans are often quickly cooked for 10 minutes.
Beans is then generally cooked on the stovetop for 2-3 hours to soften. A pressure cooker cooks beans very quickly. Maybe 10 minutes if beans is soaked, 20-45 minutes if beans is not soaked.
However, cooking times of beans vary widely and depend on the origin of the beans, the hardness of the cooking water, and many other factors.
Dietary Information
Pinto beans are a nutrient-dense beans and legume and contain many essential nutrients and health benefits .
Beans is an excellent source of protein, phosphorus, and manganese, and is very high in fibre and folic acid.
Studies show that pinto beans can lower both HDL and LDL cholesterol levels. Pinto beans have also been shown to contain coumestrol, a phytoestrogen that may have various health benefits.
Inventory Replenishment
This product is re-stocked weekly to ensure it is constantly available.
Preparation
Ingredients
Instructions
For moi moi:
Usage
Other Information
In the American South, pinto beans were once a staple food, especially during the winter. Some communities and churches in rural areas sponsor "pinto beans dinners" for social gatherings and fundraisers.Country of Origin
Ingredients
Peeled black eyed beans
Instructions
Wash before cooking
Storage
Keep in a cool dry place
Store in an airtight container after opening
Allergen Advice
This product is packed in a factory that uses nuts and sesame seeds.
Not suitable for nut allergy sufferers.
Brand
Nigerian Taste
Also Read
Extra Information
Videos